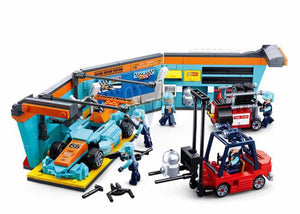 Sluban Formula 1 pitlane racing car building bricks playset.
Kids can enjoy a fun learning experience with this toy playset as it comes with a simple building guide that will help your budding bricks builder become a master builder.
No matter how fast your race car is, sooner or later maintenance will be required.
Fantastic building set for for boys and girls who love action toys. Your little racing driver will enjoy endless high-speed action with this Formula 1 Racing Cars building set. This pretend race car with 4 minifigure set the scene for the ultimate race challenge – fast pit stop change with forklift & mechanical tool chest.
SLUBAN vehicle playsets give kids the chance to let their inner turbo loose with an awesome range of superfast, supercool building toys on wheels. These feature-rich building sets, with fun characters, inspire open-ended, independent play time.
With 550 building blocks and no less than 5 dolls, this is one of the largest kits in the Sluban Racing collection.
These assorted building bricks are compatible with all major brands!
 m38b0765
Benefits of Playing with building bricks and blocks
Improve Focus and Concentration
Increase Spatial Awareness
Develop Fine Motor Skills
Encourage Lateral Thinking and Creative Problem Solving
Inspire Experimentation and Adventure
 Teach Organization Skills and Patience
Better Communication and Teamwork
Recommended Age: 8-14yrs