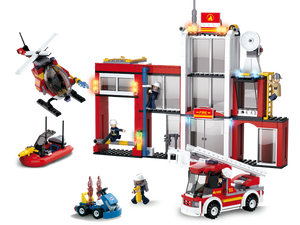 Sluban Firefighters Fire Brigade Headquarters building bricks playset 612 pieces
Learning and play become one! 
Educational games for little explorers!
 This Sluban fire station toy features a 3-level lookout tower and a large garage with an opening door and a landing pad.
Take on land, air and water missions with the included off-road fire vehicle, water scooter and helicopter. Kids can fire water elements with the stud shooters and bring adventures to life with imagination. 
Minifigures
The Fire Station toy includes a fire chief and 5 firefighter minifigures.
Sluban is a new toy brand that deals with prefabricated bricks and is compatible with other well-known brands in the same category.
Made of high-quality plastic, and bright details will attract the attention of the child, it is enough to show imagination and you can build a lot of interesting things. Develops fine motor skills and logical thinking.
These assorted building bricks  are compatible with all major brands!
M38b0731
Benefits of Playing with building bricks and blocks
Improve Focus and Concentration
Increase Spatial Awareness
Develop Fine Motor Skills
Encourage Lateral Thinking and Creative Problem Solving
Inspire Experimentation and Adventure
 Teach Organization Skills and Patience
Better Communication and Teamwork
Recommended Age: 6yrs  - 12 years