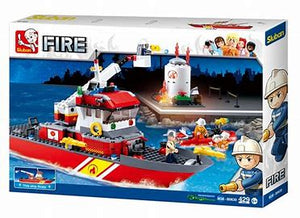 Sluban Fireboat with Oil Tank building brick playset 429 pieces.
Learning and play become one! 
Educational games for little explorers!
Sluban is a new toy brand that deals with prefabricated bricks and is compatible with other well-known brands in the same category.
Made of high-quality plastic, and bright details will attract the attention of the child, it is enough to show imagination and you can build a lot of interesting things. Develops fine motor skills and logical thinking.
These assorted building bricks  are compatible with all major brands!
M38b0630
Benefits of Playing with building bricks and blocks
Improve Focus and Concentration
Increase Spatial Awareness
Develop Fine Motor Skills
Encourage Lateral Thinking and Creative Problem Solving
Inspire Experimentation and Adventure
 Teach Organization Skills and Patience
Better Communication and Teamwork
Recommended Age: 6yrs+