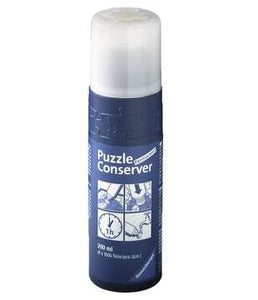 Ravensburger Jigsaw puzzle conserver glue 200ml
This easy to apply and ready to use glue is a great way to permanently conserve your jigsaw puzzles. Ideal for picture framing! Carefully slide your finished jigsaw puzzle onto a couple of layers of paper, take the top off the glue and using the sponge applicator to apply glue evenly across your puzzle. Apply more layers of glue for added strength if you want to mount the puzzle into a frame. The glue will dry clear leaving a lovely finish. One bottle will approximatlely cover 4 to 8 500 piece puzzles or 2 to 4 1000 piece puzzles depending on how much you use. Part of Ravensburger's range of puzzle accessories.

Bestselling puzzle brand worldwide - With over 1 billion puzzles sold, our jigsaw puzzles make ideal gifts for women, great gifts for men. Positively Puzzling - From fun family times together to long term health benefits and day-to-day mindful moments, there are so many positives about the humble Jigsaw! They make a great birthday gift or smashing Christmas gift.