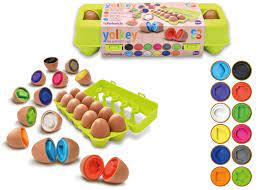 Yolkey are a set of Mix and Match Eggs in a sturdy plastic egg carton. There are 12 Eggs with matching colours and shapes.
The therapeutic benefits include developing fine motor skills and hand eye coordination, as well as shape and colour identifying. The eggs are easy to grasp  and are designed with foundation shapes and colours.
Play & Learn Yolkees Mix and Match Eggs. This set contains 12 colored eggs that split in two, revealing a unique color and shape. With an easy-to-hold, smooth shape perfectly sized for little kids, these adorable eggs are sure to hook your tot's attention as they try to take 'em apart and put 'em back together! 
Recommended for ages 10 months +