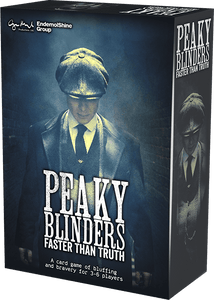 Peaky Blinders: The Card Game
Money. Power. Prestige.
Step into the lawless streets of 1920s Birmingham, where lies travel faster than the truth. To get the upper hand and gain enough influence to beat your rivals, you'll need to play your cards close to your chest.  Make alliances, break alliances,  and remember intelligence is a valuable thing.
When everyone is out to get you, can you bluff and trick your way to the top?
Strategic card game based upon the global TV Show

 

Peaky Blinders

Bluff your way to the top

2-6 players 

Age 14+