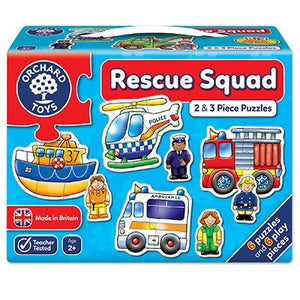 Six 2 & 3 piece rescue themed jigsaw puzzles.
Practice matching skills, problem-solving, and manual dexterity with a fun puzzle set
Choose one of the cheerful characters and make up the matching rescue vehicle. This box contains 6 play characters and 6 simple puzzles, each made up of just 2 or 3 pieces. The characters are each in charge of a bright, cheerful rescue vehicle; there is a lifeboat, an ambulance, a recovery truck, a fire engine, a police helicopter and a mountain rescue jeep. The simple shapes and bright, bold colours make it a perfect introduction to jigsaws for very young children, aged 2 and over. The youngest children can be given the puzzle pieces for just one vehicle at a time, but as they get more confident, they will enjoy sorting out which pieces belong to which puzzle. Once the jigsaws have been completed, children can have great fun making up different scenarios for the vehicles and their drivers. The puzzles can also stimulate conversation; why does the fireman have to wear a special helmet? What number is written on the side of the lifeboat? Which vehicles have sirens? Which vehicles are not driven on roads? This best-selling puzzle is made of thick, durable, wipe-clean board, and its chunky pieces and bright colours will appeal to very young children.
6 puzzles in one box!
Includes extra play pieces
Suitable for ages 2+