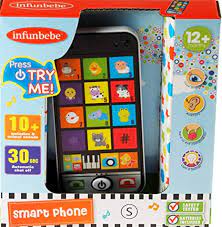 The Infunbebe Smart Phone is a fun way to build on little ones key skills! Great for visual stimulation, hand & eye coordination and auditory skills, this fun phone is sure to provide your little learner with a lot of fun!
Product Features:
For 12+ months
8 modes of play 
Inspires early role play
Pretending to talk on the phone and practising speech
Learn numbers, colours and animals 
Flashing lights
Visual stimulation:
- Helps your baby improve attention span, curiosity, memory and nervous system development.
- Helps your baby's brain thrive by stimulating visual input with contrast patterns and images.
- Helps develop memory and imagination.
Hand & eye coordination:
- From basic reaching and grasping to more refined controlled actions.
- Helps develop hand & eye coordination in young children.
- Help your child develop good reflexes.
Auditory:
- Helps stimulate and develop baby's auditory skills.
- Helps improve your aby's curiosity, attention span, memory, and nervous system development.
- Helps increase infant brain development and sensory stimulation.
Light & Sounds:
- Light-up musical rewards give fun responses to help baby understand cause and effect.
- The sounds stimulate your baby's senses and encourage them to look, listen, touch and feel.