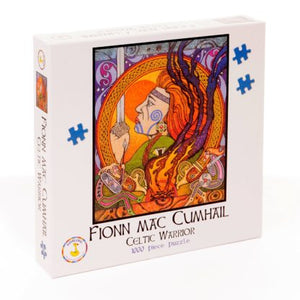 Gosling Games 1000 piece puzzle
Fionn Mac Cumhaill, a well-known character in Irish mythology, is shown here in all his glory in this vibrant 1000 piece jigsaw.
This puzzle comes with its own story printed on the box.
You might recognise Fionn's name from the famous myth 'The Salmon of Knowledge', in which he gains all the wisdom in the world from a magical salmon. While cooking the salmon for his master, Fionn burns his fingers, and after putting his burnt fingers in his mouth he is bestowed with the knowledge of the salmon. Featuring vivid colours and an intricate design inspired by Celtic art, this puzzle would look wonderful on a wall once completed!
Suitable for all ages and fun for all the family
66.5 cm x 50 cm
Illustrated by Courtney Davis
Made in Ireland
Fionn Mac Cumhaill illustrated by  Courtney Davis
Size 66.5 x 50 cm