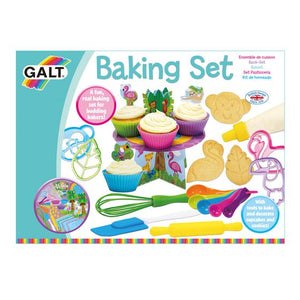 Baking set
DESCRIPTION
A fun, real baking set for budding bakers with bright, colourful utensils Bake cupcakes and cookies, then have fun decorating them using the icing set ready to display on the cake stand. 4 simple recipe cards included for vanilla and chocolate cupcakes, shortbread biscuits and vanilla frosting.
It's time to let your imagination run wild with Creative Cases from Galt Toys. These exciting children's craft kits include all the materials you need to inspire any young artist, whether they enjoy classic crafts such as painting, knitting or baking, or contemporary activities such as jewellery making and foil art.
Each Galt children's craft set encourages self-expression, innovation, and creativity, as well as helping to improve fine motor skills, hand-eye coordination, decision making, and problem-solving skills.
They're the ideal birthday party gift or rainy-day activity for children.
Age: 5yrs+