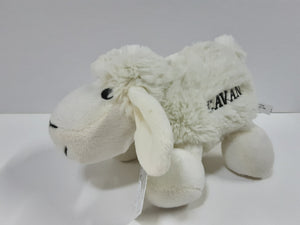 Soft cute cuddly Sheep / lamb teddy bear toy with Cavan embroidered stitching
Meet your new friend from Cavan,  Ireland! This cute and cuddly sheep is looking for a loving home.
Sheep are an iconic part of the Irish landscape. They are highly regarded for the wool they provide. We have great affection for these cuddly creatures and we hope that you will too.
Ideal gift if you are visiting relatives anywhere in the world, if you want to send a gift to a loved one that lives abroad or if you just want to be reminded of a special place in Ireland.