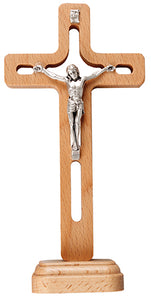 Beech Wood Standing Crucifix - 6 1/2 inch (11568). Holy cross.
Wooden Cross stand with Crucifix Religious Figure Jesus Cross crucifix, can be used in sick call set.
This high quality wooden beech standing crucifix with metal inlay, or table crucifix, is simply a crucifix that stands on a base.  The standing crucifix provides you with the flexibility to place the crucifix on any shelf of flat surface and it can be moved with ease from place to place if necessary.  A standing crucifix works well in a home, office or church environment.