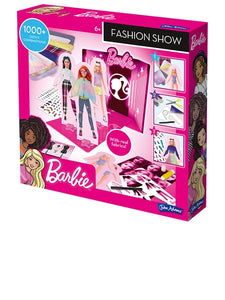 BARBIE FASHION SHOW
Description
Create your own cool Barbie catwalk using the model silhouettes. Use the fabric swatches, stickers, glue and fabric pens to customise and design your own outfits, just like a real fashion designer! With 12 Barbie silhouettes to dress up and style using real fabric swatches and cool sticker accessories, you can parade each one of your models on the Barbie Catwalk included!
Features
Create your very own Barbie Fashion Show!
Use 10 gorgeous fabrics to create stylish outfits!
12 Barbie silhouettes to make a really great fashion show
Not suitable for children under 36 months.