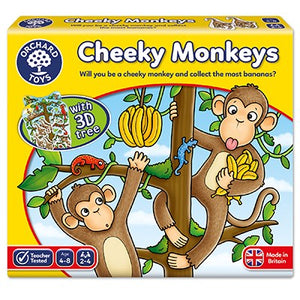 Orchard Toys Cheeky Monkeys with 3D tree.
Cheeky Monkeys is a fun game where there's no hanging around as you battle to collect the most bananas – but watch out for other players trying to steal them! Designed for children aged 4-8, this game of chance encourages children to think strategically and make decisions. On every turn, players must choose whether to play it safe after their first turn or spin the spinner to either collect or risk losing more bananas! The innovative design of the 3D tree and hanging monkeys adds another fun dimension to the game! Designed for 2-4 players, this exciting game is fun and appealing for all the family. In January 2017, Cheeky Monkeys joined the ranks of Orchard Toys' award-winning games, winning a Best New Toy award at the London Toy Fair in the 'Games' category.
Manufacturer's Description
Orchard Toys products are made in Britain from durable, recycled board and have a wipe-clean finish, meaning they will stand the test of time against constant playing, wear and tear and messy hands! Our range is developed, designed and illustrated by our talented in-house team with education in mind. Working in conjunction with teachers, nursery professionals and children themselves, we ensure that every product maintains the perfect balance between educational benefits and play value...making learning fun!
Will you play it safe or take a chance and spin again to try to win the most bananas?  Look out for the monkey with six bananas, it could be a game changer!  
Develop counting skills
Reinforce hand-eye coordination.
Promote strategic thinking..
2-4 players
Ages 4-8yrs