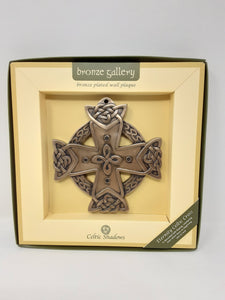 Royal Tara Eternity Cross Plaque
High Crosses are found throughout Ireland on old monastic sites. The earliest High Crosses were made from wood or metal but the great stone monuments seen today date from the 9th century.
BRONZE GALLERY FEATURES GIFTS WITH INTRICATE CELTIC MODELLING.
INSPIRED BY THE ARTISTRY OF EARLY CELTIC CRAFTSMEN, MOTIFS OF INTERLACING
KNOTWORK, ANIMALS OR HUMAN FIGURES ARE IN KEEPING WITH THIS TRADITIONAL CELTIC STYLE.
EACH HAND CRAFTED COLD CAST SCULPTURES IS PLATED IN BRONZE AND CAREFULLY POLISHED TO HIGHLIGHT THE ELABORATE DETAILING.