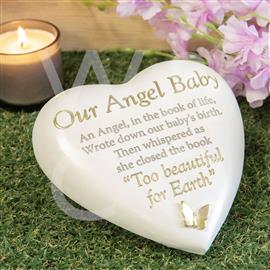 THOUGHT OF YOU GRAVESIDE HEART MEMORIAL - OUR ANGEL BABY
Remember a precious little soul, gone too soon, with this heart shaped graveside memorial stone. From Thoughts of you by CELEBRATIONS® - inspirational memorial sentiments to provide strength in times of need.
This weather resistant off-white resin heart shaped stone features inlaid lettering with hand painted soft grey and metallic gold sentiment: Our Angel Baby An Angel, in the book of life, Wrote down our baby's birth. Then whispered as She closed the book "Too beautiful for earth" A moulded golden butterfly rests below the sentiment. Colours may fade with time.
The Thoughts Of You collection provides a range of gifts to give strength, inspiration and encouragement in times of need. Working with a more realistic stone look than our previous memorial ranges, the collection features memorial plaques and keepsake stones as well as pens and vases with inspirational sentiments.
Remembering a loved one
TY100