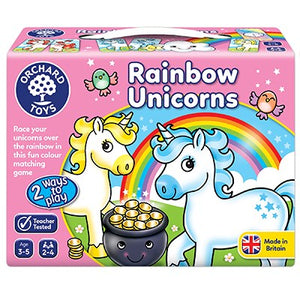 Rainbow Unicorns Game

Gallop over the rainbow by matching colourful unicorns in this magical, mystical twist on heads and tails! Players take turns to pick tail cards and match them to their unicorn heads. For every unicorn they successfully match they move one step closer to winning the magical pot of gold at the end of the rainbow! Featuring friendly unicorn characters and a rainbow playing board that children will love. Younger children can use Rainbow Unicorns as a first matching activity. As they become familiar with different colours they can be encouraged to say the colour aloud as they turn over the unicorn cards.
Race your unicorns over the rainbow in this fun colour matching game!
A magical colour matching game!
Features colourful unicorn characters
Develops matching and memory skills and colour recognition skills
Suitable for ages 3-5