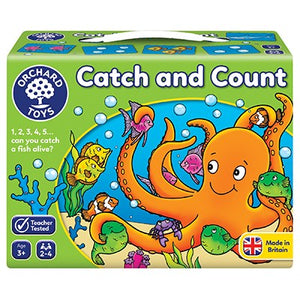 Catch and Count Game
1, 2, 3, 4, 5...can you catch a fish alive?
Promotes number recognition and counting
Fun fish theme
Suitable for ages 3+
Spin the octopus spinner to see how many fish you can catch, but do take care...there's a shark out there! Spin the spinner, count the number of bubbles and collect the matching cards on your fish board. But watch out! If you turn over a shark card, it will eat all of your fish and you'll have to start again! The player with the most fish at the end of the game is the winner!
The excitement of this game is in the anticipation of turning over cards...will you turn over a shark card or collect more fish?! Children will also love the fun shell spinner. Player boards and cards feature a number of friendly sea creatures, including clown fish, starfish, crabs and puffer fish, and can be used to show children the different creatures that live underwater. 
CONTENTS
30 bubble cards
4 jar boards
1 spinner
1 instruction leaflet
Not suitable for children under 3 years due to small parts. Choking hazard.