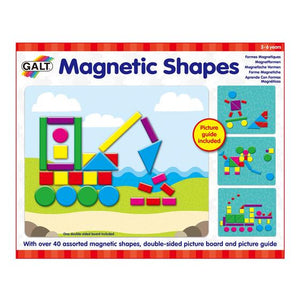 GALT Magnetic Shapes
A fun activity with over 40 magnetic pieces in assorted shapes and colours. Create a variety of patterns and designs on the metallic tray. Picture guide included.
Magnetic  shape set! A great Learning Resource for your Little Learners. Magnetic shapes make Great Fridge Magnets for kids.

MULTI-USE Kids Learn in their own way! Make it fun with this completely multi use Educational toys for 3 year olds +.   Perfect Toy for all ages. Magnets for kids help them Play and learn.

A STEM educational toy with added value that develops kids' creativity, imagination, colour and shape recognition ability, creative thinking, creative problem solving and more.
🔺Great toy to play together with other kids or parents and perfect for parent-child bonding.
Perfect gift for boys & girls that will be remembered for a long time.
Age 3 - 6 yrs