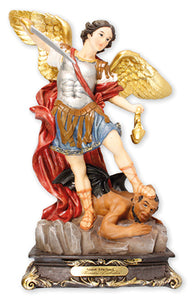 Saint Michael 5.5" Statue. 52950
 Feast day: March 19th & May 1st
Patron of the Universal Church, unborn children, fathers, workers, travelers, immigrants, and a happy death

This resin statue represents the saint holding the baby Jesus and flowers. Each statue is crafted to traditional Italian design. With Gold Highlights. Gift Tag included.
Height: 5.5 inch