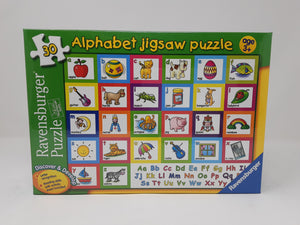 Alphabet jigsaw puzzle 30 piece 
Practice matching skills, problem-solving, and manual dexterity with a fun puzzle set
A really bright and colourful Alphabet Jigsaw Puzzle from Ravensburger. An ideal way to introduce the alphabet to young children, this puzzle shows phonetically correct images representing the 26 letters of the alphabet, plus a section showing the complete alphabet in capital and lower case letters. Each of the 26 letters is beautifully illustrated with fun pictures children can easily identify and enjoy. Each letter image is surrounded by a different coloured keyline, which helps to make the puzzle easier to piece together. The alphabet section shows both upper and lower case letters, shown in a type style that children will recognize when they move onto reading and writing at school.
The puzzle also includes an activity sheet, packed with ideas and suggestions on how to use the jigsaw puzzle and introduce the alphabet to your child. This puzzle is an ideal gift for pre-school children, and would be an excellent buy for a child-minder, playgroup or similar organization.
Suitable for ages 3 years upwards the Alphabet Puzzle 30 Piece Puzzle includes: 28 strong and sturdy jigsaw pieces (26 individual letter pieces and 2 large pieces illustrating the whole alphabet in upper and lower case letters) & a learn the alphabet activity sheet.