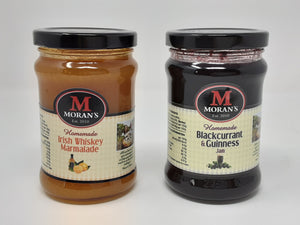 Moran's Homemade Blackcurrant & Guinness Jam/Homemade Irish Whiskey Marmalade.
Moran's received the award for "Best Established Business" at the Cavan County Enterprise Awards 2016.
Blackcurrant & Guinness Jam
This is one of our most famous products. The Guinness enhances the flavour of the blackcurrants and gives a slight treacle flavour to them – it's amazing on scones or bread but in a chocolate brownie, its fab. It can even used it as a glaze on duck.
Irish Whiskey Marmalade
This is a sweet orange marmalade and is finished with fine Irish whiskey. It's amazing on toast but can also be mouth – watering as a glaze for ham. Have you ever tried a marmalade martini? We would definitely recommend it!