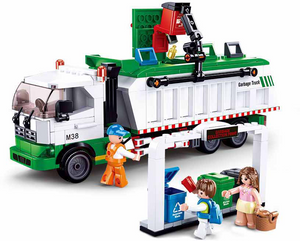 Sluban Garbage Truck  brick building playset 432 pieces
M38-B0780
Take away the rubbish trash with the Garbage Truck.
The workers are busy collecting the trash.  Wheel the bins onto the side loader, empty the trash into the recyclable waste, harmful waste, kitchen waste, and non recyclable waste and take it away to the dump.
Includes extra parts eg. Frying pan, light bulb, expired food, can, waste batteries, cake, spectacles, toupee.
3 mini brick figurines. 
Accessories:  card sorting box, 100 cards, instruction booklet.
Rules: First of all, players mix up all the cards.
Players randomly pick up the cards & put them at the correct card sorting box.
After all the cards are classified, check with the instruction booklet.
Objective: Help kids develop environmental awareness and learn classifying the garbage rubbish since childhood.
This amazing garbage truck teaches you how to pick up the trash separately.
The set consists of 432 building blocks and 3 minifigures.
Benefits of Playing with building bricks and blocks
Improve Focus and Concentration
Increase Spatial Awareness
Develop Fine Motor Skills
Encourage Lateral Thinking and Creative Problem Solving
Inspire Experimentation and Adventure
Teach Organization Skills and Patience
Better Communication and Teamwork