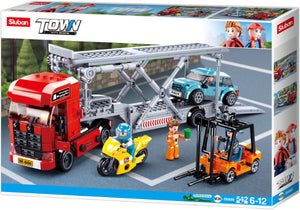 Sluban Auto Transporter M38-B0880
Sluban construction bricks

Fully compatible

Full colour instruction booklet included

 This realistic toy truck with detachable trailer comes with a classic red, grey and black colour scheme, sticker detailing and an array of authentic features and functions. Raise and lower the car decks and rear ramp for seamless navigation to the upper and lower levels, then lock the vehicles into position for safe transportation.
This building kit also includes a cool, blue car, yellow motorcycle and orange forklift.
Includes 4 mini figures.

Car transportation replica model

Construct a highly detailed Car Transporter with authentic features and functions for hours of play and design exploration.

Action-packed multi-vehicle set for kids
Familiar characters and cool vehicles set the scene for imaginative play.
Fantastic action toy for boys and girls aged 6 years and up
No batteries required – so the fun can start right away!
Benefits of Playing with building bricks and blocks
Improve Focus and Concentration
Increase Spatial Awareness
Develop Fine Motor Skills
Encourage Lateral Thinking and Creative Problem Solving
Inspire Experimentation and Adventure
Teach Organization Skills and Patience