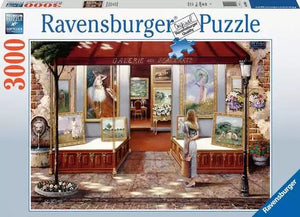 Ravensburger Gallery of Fine Art, 3000pc 164660
Peruse the stunning impressionist-style paintings as you stroll along a quiet Parisian avenue and puzzle our lovely "Gallery of Fine Arts"!

A wistful passer by pauses at the window of a superb art gallery. In the windows sit works by Renoir, Monet and Degas. Many more treasures lie inside, just tempting in those who are lucky enough to afford such masterpieces. Nevermind, there is no charge just to stand and look, admire and dream! Escape the pressures of the day and create your own mindful moments as you assemble this charming, detailed and beautiful puzzle.

Our 3000 piece jigsaws are crafted with premium quality materials and measure 121 x 80cm when complete. Great for Adults and ideal puzzles for Children 12 years old and up.