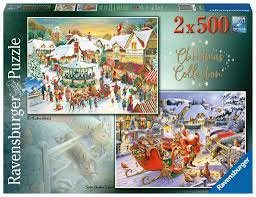 Ravensburger Christmas Collection No.1 Christmas Market & Santa's Christmas Supper 2x 500 piece Jigsaw Puzzle
More product information
Two wonderfully atmospheric puzzles, designed to get you in the Christmas mood!

The Christmas Market: It's Christmas Eve and the village square is busy as people enjoy the annual Christmas Market. There's a band to play Christmas tunes, a juggler to keep the children entertained, and places to buy gifts and goodies. But just who organized the fantastic reindeer and impressive sleigh? No-one seems to have noticed Santa perched high up on the rooftop. We think he's made an early start to his Christmas Eve deliveries and has stopped to join in the fun!

Santa's Christmas Supper: Santa stops to take a much-needed break and shares the contents of his sandwich box with the animals gathered around him. The rabbits, a fox and a badger look hopeful, birds peck at the crumbs and the ponies get some of the carrots intended for the deer. In the distance people make their way home, not noticing their very special visitor. But a little boy watching from his bedroom window cannot believe his eyes!

Our 2x 500 piece jigsaws are crafted with FSC premium quality and measure 49 x 36cm when complete. Great for Adults and ideal puzzles for Children 10 years old and up.
15031