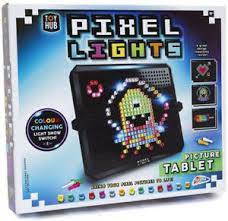 Creative kids can create their own designs with this amazing Pixel Lights set.
Wow! This Pixel Lights set is so much fun. With over 200 pieces and a colour-changing light switch, they can create lots of light-ups designs using the templates provided – or their imaginations!
To get started, they can place the colourful pieces on the picture tablet in any design they want. Then, connect it up and watch their creation come to life! When they want to mix it up, they can start all over again as many times as they want.
For ages 7 years and over.