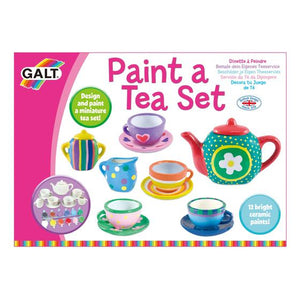 DESCRIPTION
Paint a miniature tea set with colourful ceramic paints. Follow the designs on the box or create your own unique tea set. A fun and creative activity. Contents: white ceramic miniature tea set comprising tea pot, milk jug, sugar bowl, 4 cups, 4 saucers plus 12 x 3ml ceramic paints, paintbrush and guide.
It's time to let your imagination run wild with Creative Cases from Galt Toys. These exciting children's craft kits include all the materials you need to inspire any young artist, whether they enjoy classic crafts such as painting, knitting or baking, or contemporary activities such as jewellery making and foil art.
Each Galt children's craft set encourages self-expression, innovation, and creativity, as well as helping to improve fine motor skills, hand-eye coordination, decision making, and problem-solving skills.