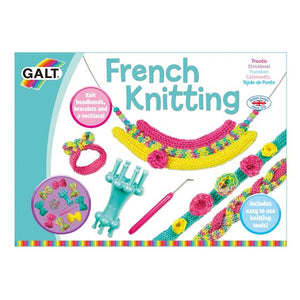 DESCRIPTION
Create a beaded necklace, plaited headband, flower headband, bow bracelets and flower accessories. Easy and quick to knit with this chunky double-ended French knitter and quality knitting tool. Following the step by step guide, learn to French knit and create knitted flowers with the colourful wool.
Contents: 8 x 10g balls of wool, double-ended French knitting spool, knitting hook, 60 pony beads, ball chain necklace, bodkin and guide.
It's time to let your imagination run wild with Creative Cases from Galt Toys. These exciting children's craft kits include all the materials you need to inspire any young artist, whether they enjoy classic crafts such as painting, knitting or baking, or contemporary activities such as jewellery making and foil art.
Each Galt children's craft set encourages self-expression, innovation, and creativity, as well as helping to improve fine motor skills, hand-eye coordination, decision making, and problem-solving skills.