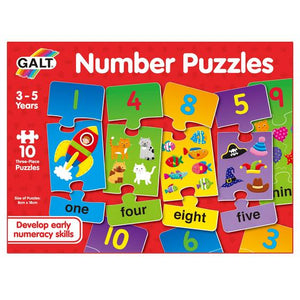 Galt Number Puzzles 10 three piece puzzles.
Practice matching skills, problem-solving, and manual dexterity with a fun puzzle set
Help your child to develop early counting skills with these colourful 3-piece puzzles.  They will also encourage recognition of the numbers 1 to 10 and the corresponding number words.
10 colourful 3 pieces puzzles to develop early counting skills and number recognition. Each puzzle features a large number, the number word and interesting items to count. Only the correct pieces will fit together.
Age 3 - 5 years.