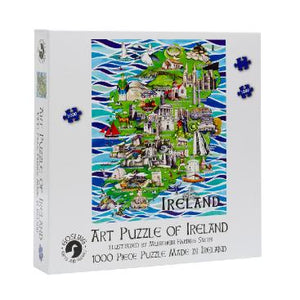 Art Puzzle of Ireland 1000 Piece jigsaw Puzzle
Art Puzzle of Ireland
Featuring the many natural attractions, places of interest and historical locations that Ireland is famous for, this intricate 1000 piece puzzle is perfect for a rainy day. Climb the highest peak of Carrauntoohil, spot the ancient artwork at Newgrange, and visit the wealth of Irish castles and stunning national parks. In vivid blues and greens, this puzzle is a wonderful contrast of detail and pattern, and a great way to uncover some of the best that Ireland has to offer.
Suitable for all ages and fun for all the family
66.5 cm x 50 cm
Illustrated by Muirghein Harding Smith
Made in Ireland