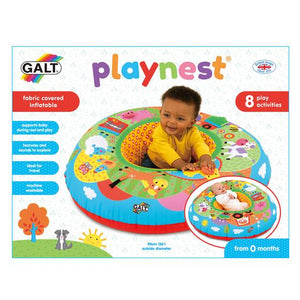 Playnest - 8 play activities by GALT.
SKILLS:  Sensory stimulation,  Motor skills, Physical development.
 DESCRIPTION.
A unique combination of a soft resting area and a self-contained play environment for babies and toddlers. The triangular fabric covered inflatable ring provides additional sideways support for baby during rest and play. Around the Playnest®, there are 8 multi-sensory features to stimulate touch, vision and hearing. Playnest® is also an excellent place for baby to sit while playing with other toys. The fabric cover has a soft quilted centre and is machine washable. Awarded 'Recommended' status by the Good Toy Guide.
Fabric covered inflatable. Supports baby during rest & play. Textures & sounds to explore. Ideal for travel & machine washable.
Age 0 mths+
Light up your little one's imagination with the First Years range from Galt. Designed and made from the highest quality materials, these delightfully charming toys and activities feature bright, cheerful colours and cute, cuddly characters to help inspire exploration and encourage early childhood development in areas such as communication, motor skills and problem-solving.
Sensory play encourages discovery and independent thinking, as well as providing young minds with new and exciting experiences that will keep them curious about the world around them. The Galt First Years range stimulates touch, vision and hearing for hours of enriching playtime.
Ideal newborn gift.