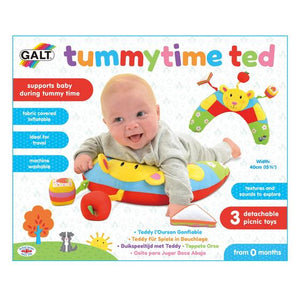 Galt Tummytime Ted.
SKILLS:  Sensory stimulation.  Motor skills.  Physical development.
A soft friendly teddy with his picnic for tummy tine play.  The fabric covered inflatable supports baby during tummy time as they explore the picnic toys.  There is an apple rattle, cake with squeaker and crinkle sandwich which are detachable so they may be played with separately,  Ideal for days out, deflate the cushion and they toy folds up for travel.
Supports baby during tummy time. Textures & sounds to explore. Ideal for travel & machine washable.
Light up your little one's imagination with the First Years range from Galt. Designed and made from the highest quality materials, these delightfully charming toys and activities feature bright, cheerful colours and cute, cuddly characters to help inspire exploration and encourage early childhood development in areas such as communication, motor skills and problem-solving.
Sensory play encourages discovery and independent thinking, as well as providing young minds with new and exciting experiences that will keep them curious about the world around them. The Galt First Years range stimulates touch, vision and hearing for hours of enriching playtime.
Age 0 mths+
Ideal newborn gift.