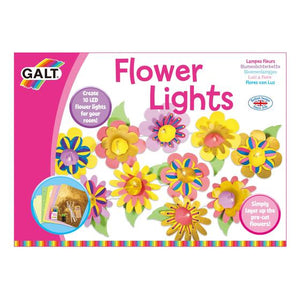 Make an amazing string of 10 flower lights to decorate your room. Customise your look by colouring in the patterned flowers, then layer up with coloured and metallic petals around each LED light to create a dazzling display. Contents: Assorted sheets of pre-cut paper flowers, 2 x AA batteries, 6 mini fibre pens, sticky circles and guide.
It's time to let your imagination run wild with Creative Cases from Galt Toys. These exciting children's craft kits include all the materials you need to inspire any young artist, whether they enjoy classic crafts such as painting, knitting or baking, or contemporary activities such as jewellery making and foil art.
Each Galt children's craft set encourages self-expression, innovation, and creativity, as well as helping to improve fine motor skills, hand-eye coordination, decision making, and problem-solving skills.